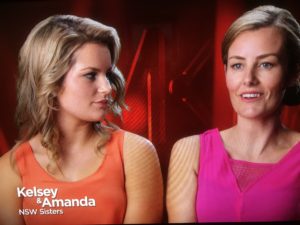 It is Kelsey & Amanda's turn to cook tonight on My Kitchen Rules. How did their instant restaurant score? What was the incident?
The sisters from NSW are cooking in their restaurant "The Bright Side". For entree, they are making Ricotta & Spinach Ravioli with Saffron Burnt Butter. For main course they are cooking Crispy Skin Snapper with Potato Mash and Lemon & Chive Dressing. Finally, for dessert, the sisters are making Chocolate fondant with Berry Coulis.
The sisters go shopping and get all their ingredients, it looks like they grabbed silverbeet instead of spinach, whoops! They blend the ricotta and spinach filling, the consistency looks terrible. Once they plate up, it looks nice on the plate.
First to taste the dish was Pete. He said there were 3 elements to the dish, and each and every one of them was perfect. He said it was cooked to perfection. Manu said it was already a winner when it came to the table because of the burnt butter sauce. He said the dish was brilliant.
The sisters return to the kitchen to start on main. How will this fantastic review of their entree reflect on their instant restaurant scores? It could put them on top of the MKR leaderboard.
While they are cooking main, the incident happens. Matt mentioned the term "Batting Merins" which is like "punching above your weight" and said that he reckons Amy is "batting Merins" because Amy is not a model and her partner was. The rest of the contestants were took aback and said they didn't agree, Amy was fuming inside.
The girls are back in the kitchen cooking the snapper fillets in the frypans. The plate up the fish and take it out to the judges. The judges taste the dish. Pete loved it, he said two for two. He loved the flavours. Manu agreed and said the quality of the food so far is amazing.
The girls get back into the kitchen to finalise their dessert. They scoop out the caramel ice-cream into ramekins and place the chocolate fondants into the oven. The place a timer on and check the fondants when it goes off. Kelsey is concerned that the fondants are not cooking evenly, she can see some are done and others are not. Both girls are feeling quite nervous about the dessert. They decide the fondants are ready and quickly plate them up. They take the dish out to the judges. Manu and Pete taste the dish. Pete says it is the best chocolate fondant they have had throughout the years. Manu loved the fondant and the coulis but agreed with Pete that the caramel ice-cream was too sweet.
Instant Restaurant Scores
Contestants
Albert & Dave – 9
Court & Duncan – 9
Josh & Amy – 8
Della & Tully – 8
Alyse & Matt – 7
Total: 41 / 50
Pete
Entree – 10
Main – 9
Dessert – 9
Manu
Entree – 10
Main – 8
Dessert – 8
Total: 95/110
This places Kelsey & Amanda at the top of the MKR 2017 Leaderboard