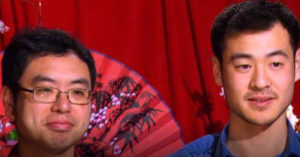 It is round 2 on My Kitchen Rules and the first instant restaurant scores are Albert & Dave's from New South Wales. The brothers from Hong Kong are cooking cantonese tonight.
Their instant restaurant restaurant is called "Laughing out Lau" (Lau is their last name). For entree, the brothers are making Eight Treasures Fortune Bag with Scallops. For main, they are making Hainan Chicken and finally, for dessert, they are making Hong Kon Egg Tart with Warm Banana.
The brothers get many elements from other dishes ready before the contestants and judges arrive. The contestants are expecting deep fried money bags, however the brothers are using fried egg as the bag, tied with a shallot. They have trouble assembling the fortune bags. The decide to just use a skewer to secure some of the fortune bags. They decide to cook the scallops and lay them on a deep fried bird's nest. They know they haven't cooked a perfect dish as they take it out the to judges.
Manu says the scallops were inconsistent, his were overcooked, while Pete's looked cooked well. Pete didn't like the deep fried bird's nest, it didn't add anything to the dish. Manu says the fortune bag itself (the egg) was rubbery and bland. Pete thought the filling wasn't great. The contestants agreed with the judge's comments. Josh says his scallops were raw and he could cook them better with his eyes closed. A couple of the contestants criticise the dish and Court begins to cry, she is upset that the other contestants are so critical of Albert and Dave.
After that entree, how will My Kitchen Rules contestants Albert & Dave score tonight?
It is main course. The brothers decide to boil chicken tenders without skin, they think this will make it healthy, but it will take away a lot of flavour. First to taste is Pete, he says the dish comes down to technique and a whole chicken should be boiled. Without the skin, some of his chicken is dry and the broth doesn't pack a punch. The rice was undercooked. Manu says Hainan chicken is one of his favourite dish, his chicken was cooked well so it wasn't dry but he is expecting an amazing dessert.
Some of the contestants got undercooked chicken, they couldn't eat it, also, they didn't like the rice. Let's hope that dessert boosts Albert & Dave's instant restaurant score.
They bring out their egg tarts to the judges. Pete says they should be very very proud of this dish. It was "sensational", the tart is technically perfect. He cannot fault it. Manu says the the custard was perfectly set. Court cries again. Manu says the green tea crumbs and banana work well together. The boys nailed this dish.
Instant Restaurant Scores
Contestants
Kelsey & Amanda – 5
Court & Duncan – 6
Josh & Amy – 4
Della & Tully – 6
Alyse & Matt – 5
Combined score: 26/50
Pete
Entree – 4
Main – 3
Dessert – 9
Manu
Entree – 3
Main – 6
Dessert – 9
Total: 60/110