UPDATE: Spoiler, scroll down to see what the teams cooked and who wins.
The My Kitchen Rules Farmers Challenge is on tonight and the winner will be safe for the next two eliminations. In this challenge, the MKR teams must cook the produce the farmers provide and it will be Pete and Manu who decide who win. The farmers decisions will affect who will cook in future competitions.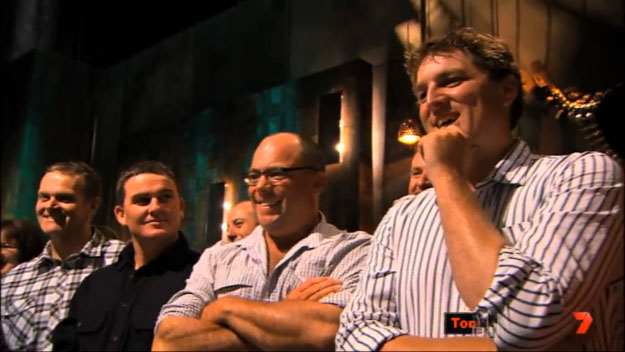 Each team had to cook one dish.
Paul and Blair cooked a version of 'surf and turf' which was beef & prawns with nam jim jus on a deep fried wanton. Manu thought the wontons could have been fried a little longer but it did taste very good. The flavour "exploded" in their mouth. The nam jim made the dish.
Josh and Danielle cooked asian pork with prawns on watermelon. It looked "very interesting", Pete thought it could have worked better with less watermelon and more flavour in the pork but the farmers liked it.
Helena and Vikki cooked sweet potato rösti with confit salmon with Niçoise salad. Pete loved the crispy skin and Manu wished there was more than just one piece. The rösti could have had a little more crunch but overall the dish was good and the salmon was confit perfectly.
Cathy and Anna cooked blue swimmer crab tortillas with coleslaw and tomato salsa. The crab was cooked perfectly and it had the flavours, and the texture of a fine dining Mexican dish. The crab was sweet, melt in your mouth and "to die for".
Thalia and Bianca cooked lamb backstrap with cauliflower puree and salsa verde. It was "incredible" and Pete thought the lamb was "absolutely gorgeous". He liked each component separately but didn't think they went well together. The idea of the crispy flatbread base was there but the execution wasn't.
Bree and Jessica cooked beef tortillas with Mexican slaw and chargrilled corn salsa. The tortilla took Pete to Mexico. There was enough on the tortilla to make it a beautiful dish but Pete wanted a little more spice. Manu was happy with the level of spice in the dish.
The winner, and the team who is safe for the next two elimination rounds is Paul and Blair
The farmers choice was Cath and Anna. The decisions of the farmers placed the remaining teams into two groups for the final round. Every time they cook now, one team will be eliminated. The groups are:
Josh and Danielle, Helena and Vikkie, Chloe and Kelly
Thalia and Bianca, Bree and Jessica and Cathy and Anna