MKR SPOILER: Scroll down to see what the teams cooked
Who is eliminated tonight on My Kitchen Rules? It's Carly and Tresne vs Bree and Jessica in an MKR sudden death elimination round. The all-girl sudden death elimination sees the two teams both cook under-done main course meals, but do they fix this costly mistake? We'll keep you updated through the episode tonight.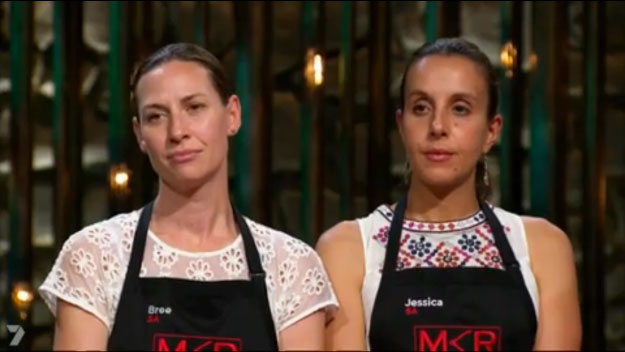 Bree and Jessica
For entree, Bree and Jessica cooked seared prawns with fennel and leek puree and tomato salsa. The prawns were cooked perfectly. The puree was "delicious" and the flavours were refreshing. It blew Pete away.
For main, the girls cooked a roast chicken ballotine with a quinoa lentil salad and aoili. The chicken was slightly raw when it came out of the oven. Some of the judges got raw chicken. The skin was rubbery but the judges liked the aoli. The
Bree and Jessica cooked dark chocolate mousse tarts with strawberries and a pistachio praline crumb for dessert. The tart was quite rich and the pastry had a good crunch. The judges liked the dish but the praline had clumps of sugar in it
Carly and Tresne
For entree, Carly and Tresne cooked golden scallops with champagne sabayon, pancetta crumb and water cress. The scallops were cooked well and the fresh water cress worked really well.
Carly and Tresne cooked wagyu scotch fillet with roasted beetroot salad for main. Like Bree and Jessica, the beef was raw, they had to pan fry it. The girls ran out of time, which meant the dish looked like it had been "thrown on a plate". It was "not really a dish" and they managed to "ruin" the meat.
For dessert the girls cooked raspberry and rosewater Turkish mousse with meringue. The mouse was "feather light" and very refreshing. There was "not much to fault" with the dish.
Result
Bree and Jessica
Karen Martini – 5
Guy Grossi – 7
Colin Fassnidge – 6
Liz Egan – 7
Pete – 7
Manu – 7
Total: 39/60
Carly and Tresne
Karen Martini – 6
Guy Grossi – 7
Colin Fassnidge – 6
Liz Egan – 6
Pete – 7
Manu – 6
Total: 38/60
Bree and Jessica win and Carly and Tresne have been eliminated